OUR STORY
WE ARE ALBA PHOTOGRAPHERS
—
Alba Photographers is a Honduran photography boutique created by two inseparable friends, Cinthia Casco and Dany Barrientos, who believe that wedding images should be exclusive pieces of art.
Cinthia Casco brings to the duo an energetic creativity that often leads to a newfound friendship with the couples. Meanwhile, Dany Barrientos, and his experience abroad, brings an accurate touch to building memorable images.

Alpha Photographers demonstrate that wedding photographs can be sexy, unpredictable, spontaneous and full of emotion. We challenge what is traditionally known as "wedding photography". We create highly artistic images that will have your friends commenting on your wedding in amazement (for weeks at a time!) but we also provide what every couple has dreamed of.

Whether it's an intimate wedding abroad or a ceremony with thousands of guests in an exclusive venue in Tegucigalpa or Roatan, Alba Photographers' mission is always to create your family's first great legacy: happiness immortalized through photography.
Our mission is always to create your family's first great legacy: happiness immortalized through photography
About Cinthia Casco
Cinthia is one of the most sincere, energetic individuals you will ever meet with a natural tendency to smile. She values the connection between the photographer and the bride and groom, the natural light and the sincere outpouring of emotions that can be observed in a ceremony. Her greatest reward after a wedding is to become the bride and groom's new friend!
Cinthia was initially educated in finance but her innate creativity led her to discover photography (almost by accident) nine years ago. It was love at first sight! She works with the energy it takes to create beautiful photographs even if the couple is besieged by anxiety. When she takes the camera in her hands she finds unique angles to create spontaneous images, especially real ones, with a different aesthetic.

Naturally, her favorite part of a wedding is the reception because it allows her to capture fun pictures while she herself dances not far from the bride and groom. Her ideal place for a wedding? New Orleans, Copán Ruins and Roatán.

She lives in Tegucigalpa, Honduras, where she divides her time between her passion for photography, sports and her two great canine sweethearts, Buggy and Lola.
About Dany Barrientos-Ramírez
Definitely the most charming and inexhaustible wedding photographer in Honduras - no exaggeration! His perennial smile and good cheer make him everything a bride could wish for in her big day.
As a child he always dreamed of being a scientist, and perhaps there is some science behind his elegantly constructed photographs. Dany first took to his camera lens thirteen years ago and found his way to weddings after experimenting with commercial and fashion photography. That touch of fashion is still highly visible in his images, although he always prefers shooting the most natural and carefree moments.

Dany creates the pictures that every couple dreams of having on their big day, as well as polaroids that will make you wonder how he could have seen something so beautiful where others did not. He has worked in the wedding industry in Guatemala (while living in Antigua, Guatemala) and Honduras.
He is based in Tegucigalpa, Honduras, and when he's not preparing for a wedding he thoroughly enjoys exploring his two new hobbies: hiking and gardening. The rest of the time he is consumed by his master: a rescued white cat named Ziggy Stardust (both cat and photographer are David Bowie fans).
KIND WORDS
from
PAST CLIENTS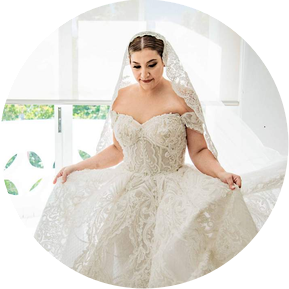 "They delivered the pictures so fast that I was amazed!"
—
Paola Giannini Frazier, bride
"The best. Super professional, creative and lots of good attitude"
—
Isabella Kaffie Ati, bride